7th Workshop on the Matthews-Sumner Conjecture and Related Problems
Domazlice, March 24-29, 2013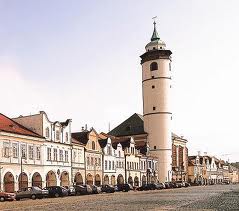 After the workshop
Many thanks to all the participants for their part in making the workshop a fruitful and enjoyable event. The next workshop in this series will take place in Domazlice, in the week preceding the Easter 2015 - that is,
March 29-April 3, 2015.
A photo gallery from this year's workshop is available. The schedule of talks and other events is given below, with links to slides, preprints, videos from concerts etc.
Programme
---
About the workshop
The workshop was focused on problems and results related to the celebrated Matthews-Sumner Conjecture whose equivalent forms assert:
Every 4-connected claw-free graph is hamiltonian. (Matthews, Sumner 1984)
Every 4-connected line graph is hamiltonian. (Thomassen 1984)
Every cyclically 4-edge-connected cubic graph has either a 3-edge-colouring or a dominating cycle. (Fleischner 1984)
Every cyclically 4-edge-connected cubic graph has a dominating cycle. (Ash and Jackson 1989)
Topics within the scope of the workshop included:
Hamiltonian properties of line graphs and claw-free graphs
Forbidden induced subgraphs
Closure operations, contractibility, collapsibility
Graph toughness
Cubic graphs, snarks
Nowhere-zero flows and cycle covers
This event was the seventh in a series of workshops held in Nectiny (1999 and 2000), Hannover (2002), Hajek (2003) and Domazlice (2008, 2011).
Location and dates
Domazlice is a charming town about 50 kms southwest of Pilsen (see here for some photos). The workshop began with dinner on March 24 and ended with breakfast on March 29. It took place in the hotel Sokolsky dum on the main square of Domazlice (marked by a star in this map).
Accommodation was arranged in Sokolsky dum and in Penzion U Chodskeho hradu across the main square.
Participants
The following is the list of participants:
| | | | |
| --- | --- | --- | --- |
| Yandong Bai | Hajo Broersma | Shuya Chiba | Evelyne Flandrin |
| Weihua He | Arthur Hoffmann-Ostenhof | Hao Li | Kenta Ozeki |
| Ingo Schiermeyer | Kiyoshi Yoshimoto | Weihua Wang | Cun-Quan Zhang |
...plus the organizers (Herbert Fleischner and Zdenek Ryjacek) and colleagues from the Pilsen group (Honza Brousek, Roman Cada, Honza Ekstein, Premek Holub, Tomas Kaiser, Roman Kuzel, Edita Rollova, Jakub Teska and Petr Vrana).
Organizers and contact
The workshop was co-organized by the Department of Mathematics at the University of West Bohemia in Pilsen. Support from the Institute for Theoretical Computer Science (CE-ITI) and the Union of Czech Mathematicians and Physicists (JCMF) is gratefully acknowledged.
The organizing committee was chaired by Herbert Fleischner and Zdenek Ryjacek.
If you need additional information, please write to ryjacek [@] kma [.] zcu [.] cz.