5th Workshop on the Matthews-Sumner Conjecture and Related Problems
Domazlice, October 6-10, 2008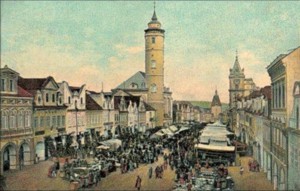 After the workshop
Slides to all the talks are available:

Photos from the workshop can be found in this gallery (for full-size versions of these pictures, see here).

Articles about the event appeared in the local newspaper Domazlicky denik (English translation here) and in Klatovsky denik.

Many thanks to all the participants for their contribution to the inspiring atmosphere of the workshop.
---
About the workshop
The workshop was focused on problems and results related to the celebrated Matthews-Sumner Conjecture whose equivalent forms assert:
Every 4-connected claw-free graph is hamiltonian. (Matthews, Sumner 1984)
Every 4-connected line graph is hamiltonian. (Thomassen 1984)
Every cyclically 4-edge-connected cubic graph has either a 3-edge-colouring or a dominating cycle. (Fleischner 1984)
Every cyclically 4-edge-connected cubic graph has a dominating cycle. (Ash and Jackson 1989)
Topics within the scope of the workshop included:
Hamiltonian properties of line graphs and claw-free graphs
Forbidden induced subgraphs
Closure operations, contractibility, collapsibility
Graph toughness
Cubic graphs, snarks
The event was the fifth in a series of workshops held in Nectiny (1999 and 2000), Hannover (2002) and Hajek (2003).
Location and dates
Domazlice is a charming town about 50 kms southwest of Pilsen (see here for some photos). The workshop began with lunch on October 6 (noon) and ended with lunch on October 10. It took place in the hotel Sokolsky dum on the main square of Domazlice.
Accommodation was arranged in Sokolsky dum and two hotels situated very close to it:
Participants
The workshop (which was by invitation only) was attended by the following participants:
| | | | |
| --- | --- | --- | --- |
| Ljiljana Brankovic | Hajo Broersma | Igor Fabrici | Ralph Faudree |
| Evelyne Flandrin | Herbert Fleischner | Grzegorz Gancarzewicz | Arthur Hoffmann Ostenhof |
| Heinz Jung | Jan Kratochvil | Hao Li | Edita Macajova |
| Mirka Miller | Jaroslav Nesetril | Daniel Paulusma | Moshe Rosenfeld |
| Joe Ryan | Ingo Schiermeyer | Bing Wei | Kiyoshi Yoshimoto |
plus the Pilsen group:
Zdenek Ryjacek
Jan Brousek
Roman Cada
Jan Ekstein
Ruslan Gumerov
Premysl Holub
Tomas Kaiser
Roman Kuzel
Ondrej Rucky
Khikmat Saburov
Milena Sebkova
Radek Sliva
Jakub Teska
Libuse Teskova
Petr Vrana
Organizers
The workshop was organized by the Department of Mathematics at the University of West Bohemia in Pilsen. Support from the Research Plan MSM 4977751301 of the Czech Ministry of Education, and from the Institute for Theoretical Computer Science (ITI), is gratefully acknowledged.
The organizing committee was chaired by Zdenek Ryjacek. For additional information, please email to ryjacek [@] kma [.] zcu [.] cz.